Raue is among the best employers for lawyers in Germany in 2022/2023, according to a recent study by the F.A.Z. Institute and Statista. In the overall list of best law firm employers, Raue holds an excellent third place.
"We are very pleased to belong to the absolute top of the best employers for lawyers in Germany.," comments Dr. Friedemann Eberspächer, responsible partner for the development and retaining of legal staff at Raue. "The result is an expression of our continuous efforts in the further development of our employees, but also for a sustainable, respectful cooperation – just a very special Raue Spirit."
The comprehensive and independent survey of the "Best Employers for Lawyers" in Germany is based on the evaluation of a large-scale study with more than 2000 respondents. Lawyers in Germany and employees in a legal function were able to rate all aspects of their employer. In addition to the question about recommending the employer, questions were also asked about the employer's image and growth, interpersonal relationships and supervisor behavior, pay and benefits, workload and balance, further development and prospects, conditions and equipment, as well as aspects specifically relevant to the legal field (e.g., relationship between partners and employees, interesting legal topics).
A total of 25 law firms and 60 companies that scored particularly well in the evaluation as an employer by lawyers were honored.
Here you can find the list of best companies in the study "Germany's Best Employers for Lawyers 2022/23".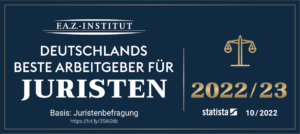 (25 October 2022)